PH PURE HAIR ILLUMINATING COLOUR
IS A REVOLUTIONARY AMMONIA-FREE HAIR COLOURING GEL CREAM,
ENRICHED WITH ARGAN OIL AND KERATIN.
INTENSE COLOURS. LUMINOUS REFLEXES. PERFECT COVERAGE OF GREY HAIR.
LIFTS NATURAL BASE COLOUR UP TO 4 LEVELS, ENSURING LONG-LASTINGNESS AND HOLD TO THE COLOUR. A DELICATE FORMULA, IDEAL FOR PAMPERED AND SENSITIZED HAIR TOO.
PH PURE HAIR ILLUMINATING COLOUR HAS A PLEASANT FRAGRANCE.
IT IS EASY TO APPLY AND DOES NOT DRIP.
THE WIDE RANGE OF NUANCES DONATES INTENSE REFLEXES AND GREAT SHINE
FOR HEALTHY, SHINY, ILLUMINATED HAIR.
enriched with Argan oil
KNOWN AS THE GOLD OF THE DESERT, ARGAN OIL IS A NATURAL OIL OBTAINED FROM COLD-CRUSHED ARGANIA SPINOSA ALMONDS. ITS HYDRATING PROPERTIES ARE UNIQUE. THANKS TO THEIR CONTENT OF VITAMIN E, IT DONATES SHINE TO DRY, FRAGILE AND BRITTLE HAIR PROTECTING IT FROM ATMOSPHERIC AGENTS AND NURTURING IT FROM ROOTS TO ENDS WITHOUT WEIGHING IT DOWN.
ILLUMINATING: PH PURE HAIR ILLUMINATING COLOUR DONATES INTENSE REFLEXES WITH GREAT SHINE FOR A HEALTHY, SHINY, ILLUMINATED HAIR. HYDRATING: IT HYDRATES AND NURTURES THE HAIR FROM ROOTS TO ENDS, LEAVING IT SOFT AND SILKY.
PROTECTIVE: ITS OUTSTANDING EMOLLIENT AND SOOTHING PROPERTIES PRESERVE AND PROTECT HAIR AND SKIN.
enriched with Keratin
AS THE MAIN CONSTITUENT OF HAIR FIBRES, KERATIN CARRIES OUT AN INSTANT REINFORCING AND RESTORING ACTION.
HYDROLYZED KERATIN IS THE TREATMENT COSMETIC-TRICHOLOGY TREATMENT PAR EXCELLENCE: IT PENETRATES THE HAIR AND BONDS WITH ITS CONSTITUENT FIBRES. NURTURES THE HAIR DEEPLY INCREASING ITS THICKNESS, VOLUME, SOFTNESS AND SHINE.
DEEP RESTORATION: PH PURE HAIR ILLUMINATING COLOUR MAKES THE HAIR HEALTHY, STRONG, SILKY AND SHINY. WITH ITS POWERFUL RESTORING PROPERTIES, KERATIN ACTS ON THE HAIR FIBRE WITH A FILLING AND SEALING EFFECT, BRINGING IT BACK TO ITS IDEAL STRUCTURE. DETANGLING: KERATIN IMPROVES HAIR COMBABILITY REDUCING MECHANICAL STRESS, THE CAUSE OF WEAKENING AND BREAKAGE.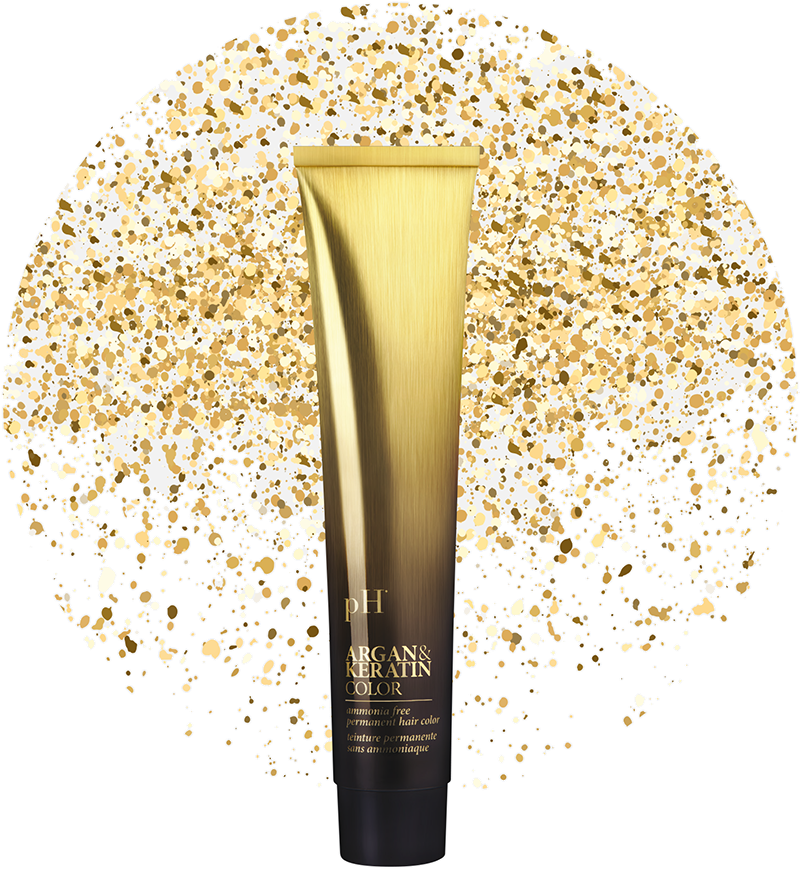 WANT TO KNOW WHERE TO FIND IT?
This product cannot be purchased online
Send an enquiry