Veröffentlicht am: 01.10.2019 09:44:06
Kategorie :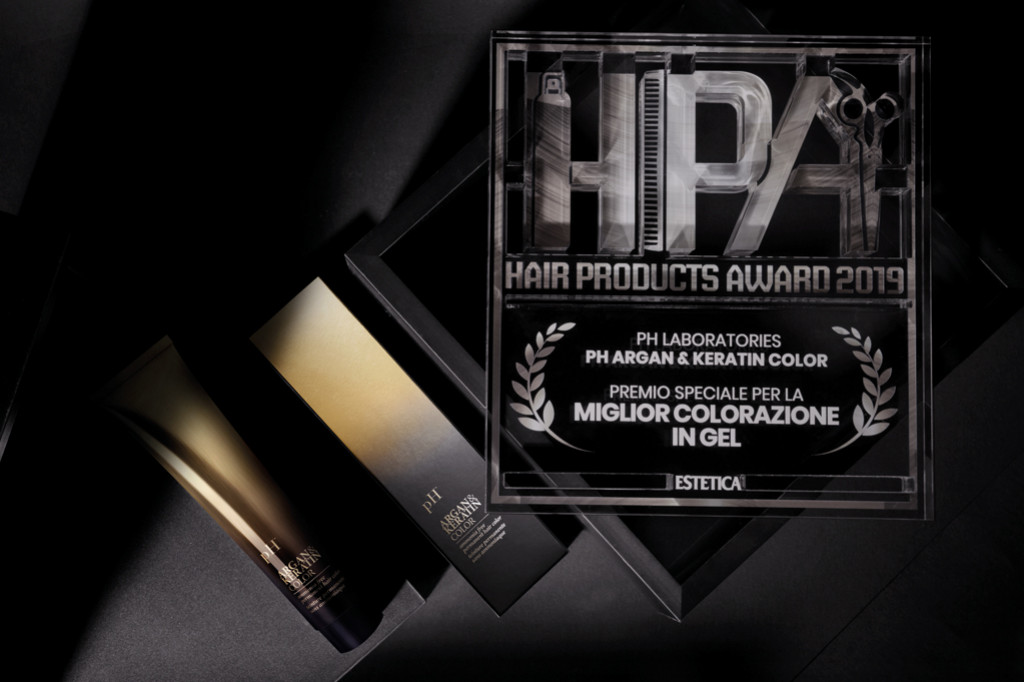 Best Color in Gel of the year
Published: 01.10.2019 09:44:06
Teilen diesen Inhalt
Argan & Keratin Color by pH Laboratories has won the 2019 Hair Products Award as Best Color in Gel of the year.
The Hair Products Award represents an important acknowledgement of the quality of this product, but also the constant commitment on the part of the company to research and the development of new preparations.
Argan & Keratin Color is a color cream in gel, with no added ammonia, which donates intense colors, bright, long-lasting and ensuring perfect coverage of grey hair.
Its delicate scent makes the treatment a pleasant experience, while its formula enriched with Argan oil and keratin ensures moisture and softness to the hair.
This formula in gel was designed to make application easier, maximize product performance and guarantee a shiny and even outcome.
Besides the color in gel, the Argan & Keratin Color range comprises: Argan & Keratin Shampoo, Argan & Keratin Mask, Argan & Keratin Elixir and Argan & Keratin Nectar.
KEY ACTIVE INGREDIENTS
Argan Oil: is used in many cosmetic preparations thanks to its several virtues, Extremely rich in Vitamin and it carries out a regenerating action, infuses shine on dry, brittle and damaged hair.
Keratin: one of the main constituents of hair fibres, carries out an instant strengthening and restructuring action.
PH LABORATORIES, THE ITALIAN BEAUTY COMPANY
pH Laboratories is a dynamic, avant-garde Italian company, focusing on the realm of high-end hair care and is present with its products in over 40 countries worlwide.
Te brand was born in 2013 with Argan & Keratin Color, a luxury range with precious Argan oil and keratin dedicated to color and post-color treatments. Following the great success obtained with Argan & Keratin. In 2018 pH Laboratories launched on the market Flower, a hymn to beauty and sensoriality.
Te products, enriched with floral oils and extracts, turn salon services into unique and exclusive beauty treatments.
We believe in innovation, research and quality and always look for exceptional performance and an elegant, sophisticated image for our products.
Our attention is focused on developing high-quality, effective formulations to achieve the top in the sector and guarantee a technical and pleasant to-use product to professionals.
Te same care is dedicated to product sensoriality, with extremely gentle enveloping fragrances, allowing the client to experience a unique, all absorbing beauty experience.
Verwandte Produkte